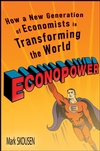 Econopower
will provide you with a firm understanding of the influence of modern economics and how it can be used to improve the world we live in. It offers practical advice on numerous personal financial matters - earning, saving, investing, and retiring - based on the breakthrough contributions of behavioral economists. And it looks at how economists are working successfully on issues such as public education, crime, and global warming. EconoPower also examines how a new economic philosophy may dominate the new millennium.
The Economics of Football
presents the first detailed economic analysis of professional football at club level, using a combination of economic reasoning and statistical and econometric analysis. Most of the original empirical research reported in the book is based on English club football. A wide range of international comparisons help emphasise both the broader relevance as well as the unique characteristics of the English experience.
The Economics of Animal Health and Production
presents information on the most important economic tools applied to livestock, covering both theory and practical applications. Topics covered include gross margin analysis, partial budgeting, investment and financial appraisal and cost-benefit analysis. There are also sections on decision tree analysis, optimisation methods, value chain analysis, new institutional economics, DALYs and a range of policy analysis tools.