An update to our list of the course reading problems most often reported to us and how to solve them. If they don't help you please
contact InfoHelp
.
PDF won't display, print or save properly
We've seen a number of issues like this that revolved around Firefox using it's own plugin to view PDF files - the work around is to switch all the Acrobat content associations from Firefox's inbuilt PDF reader to either Adobe Acrobat or Adobe Reader under
File - Options - Applications
:
If you are on a lab computer, or don't want to change this setting every time you login you can right click the link and 'Save Link As' or download the PDF then open it with Adobe Reader by double clicking it where ever you saved it to.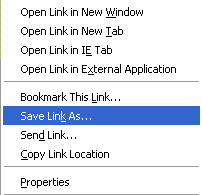 Click on a reading and get a blank or partially blank screen
The latest versions of Firefox and Chrome can cause problems when because they automatically disable the display of 'mixed active content' in an
iframe
– so an iframe from one server (e.g. learnjcu.jcu.edu.au) might not display a pdf hosted on another server (e.g. Informit.com.au) and you see a blank frame where the PDF should be.
Both browsers display a grey shield icon next to the address bar (but on different sides to confuse us) to view the file click on the shield icon and disable protection on the page:
In Firefox
In Chrome:
An article wants me to pay to see it
We've had sporadic reports of an issue where off campus access to Library subscription resources is failing to recognise staff and students as being part of JCU.
It appears that previous EZproxy sessions have been cached so EZproxy isn't asking for your username and password but is creating a proxied address (has elibrary.jcu.edu.au in it somewhere), which the publisher not accepting as valid because the session has timed out – so you are asked to pay for access to full text that you should be seeing as part of our subscription.
The temporary workaround is to access Library resources in a 'Private Window' (called an 'Incognito Window' in Chrome) this bypasses all existing cache and cookies.
If this resolves your issue then consider flushing your cache as per the
Mozilla instructions
so you can use Firefox normally.
The latest version of Chrome is causing occasional problems with some course readings in LearnJCU - if you click on a link to a reading and the screen goes blank - look for the grey shield icon to the right of the address bar and click on it:
Click on 'Load unsafe script' and 'Done' and the content will appear.
Alternatively use Firefox instead.
LIS is working on a permanent solution with ITR.