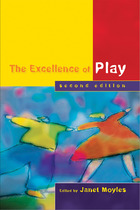 The Excellence of Play
. This book encapsulates all the many changes that have taken place in early childhood in the last ten years. Whilst retaining its original message of the vital importance of play as a tool for learning and teaching for children and practitioners, it consolidates this further with current evidence from research and practice and links the most effective practice with the implementation of recent policies. Its intention is to support all those who work in early childhood education and care in developing and implementing the highest quality play experiences for children from birth to middle childhood.
Working with Families of Young Children with Special Needs
. This user-friendly book presents research-based best practices for serving families of children with special needs from birth to age 6. Expert contributors demonstrate how early intervention and early childhood special education can effectively address a wide range of family concerns, which in turn optimizes children's development and learning.
Managing Boys' Behaviour
. A practical guide for teachers and trainees on managing boys' behaviour; part of the behaviour management strand. A practical and engaging guide for teachers on tackling boys' behaviour problems. The author analyses the many factors that can lead to boys' misbehaving in class - including SEN, giftedness, peer pressure etc - and shows how their full potential can be unleashed and exploited by teachers. Packed with innovative strategies and useful suggestions, this book should be a must-read for every teacher.